The core of Mother's Day is pure, thoughtful, meaningful and beautiful but like most holidays, it can be a hard one to navigate, especially if the feeling of loss overshadows the day. Most of us have experienced loss as we have moved through our life's seasons and whether it was of our own mother or of something symbolic, the gravity of it is our own. It's something that even on a mundane Tuesday afternoon or another celebratory holiday, we have to work through and find ways to harness our inner strength and honor the memory of the person or energy we're remembering.
We get a lot of messages from our community about why they purchased or were moved by a specific product. A lot of the reasons center around their own personalities or intentions for themselves but the next reason typically goes into a direction of remembrance of something or someone.
This Mother's Day we want to respect the other types of Mother's Day gifting that we do not talk about as often—that sometimes carries a meaning so personal and often illustrates a connection or bond that transcends this physical life. That feels bespoke to the wearer simply because of the deeper significance it possesses.
For the person who is mourning the heavy loss of their own mother, who wishes for one last embrace, one last phone call or who sees their mother's smile on their own children's face and hears her voice when tasked with a challenge that feels unbearable, we love the idea of a special locket to keep a picture of her near us always and Diamond Moon Wave Necklace symbolizes the connection we have to the universe and the rhythms of life.
For the person who is reflecting on their relationship with their mother, or lack thereof and this day brings them more grief and heartbreak than joy, we find that Goddess Hecate who is a guardian of pathways and helps us create the healthy boundaries we need to grow in our development and heal.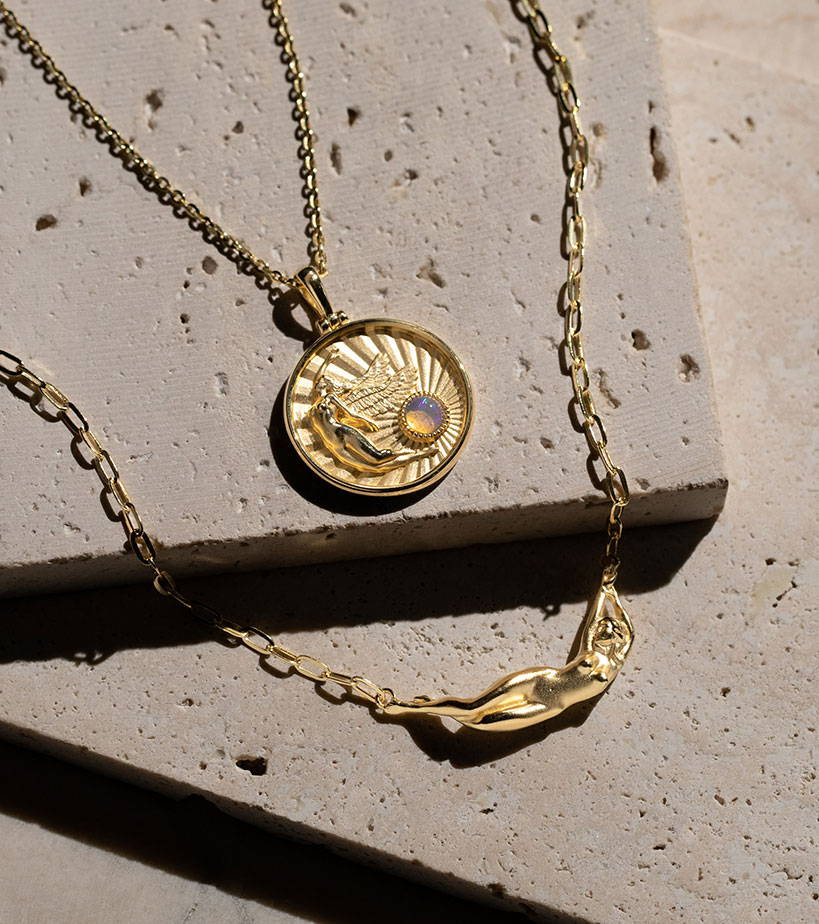 For those that long to celebrate Mother's Day as a mother themselves, but have been robbed from holding the title, or are in the beginning stages of trying or who have had to smile through one too many baby showers while they are silently suffering, we suggest giving the deep symbolism of poppies for hope and renewal or Oshun for healing energy.
For the mother who often looks into the mirror searching for a glimpse of her past life—the young woman she once was. And although would not change a thing, sometimes longs for that carefree girl who danced until dawn, lived only for herself and whose dreams were as endless as her energy, we'd give her Goddess of self-pleasure, Hedone and the Divine Feminine necklace to remind her that she is still filled with mystery and alluring magic. That her divine inner Goddess sometimes needs to be summoned up so that she feels the freedom of dancing until dawn again.
For the mother who has felt loss in her womb or who is putting on a brave face for her family, her friends, her co-workers. Who misses a little soul more than they can describe. Who looks to nature for signs, who asks the universe for answers, who feels her loss in every inch of her body, we'd give her Artemis, Goddess of wildlife and protector of children. Artemis encourages inner strength and the thought of her running wild with our littles through the woods is magical.
For the mother that wishes for a do-over and who would have loved to be a different type of mother. Who vows to be the best grandmother and who sees it all so differently now. Who has healed and who is working to end generational trauma. Who mourns the mother she could have been if things were different while she was in the thick of it, we'd give her the Ala Goddess necklace in hopes that she will forgive herself and remember that life is constantly moving and that we do the very best we can with what we were given. We'd love to encourage her to be kinder to her past self.
For all of those that spend Mother's Day with a mixed bag of feelings and sentiment, and who equally celebrate and dread this day for reasons that are sometimes even impossible to articulate — we see you. We hold space for you and honor how you choose to observe it.
We revere and respect the pain and we revel in the joy with you.
To those that need the reminder: be gentle to yourself. You're doing your best and the divine Goddess lives in all of us.