In the realm of mythology, few figures captivate our imagination as intensely as Medusa. With her fierce gaze and serpentine locks, she has long been shrouded in mystery and fear. However, she has come to symbolize much more and it is time to unveil a new perspective on Medusa—a symbol of female empowerment and resilience. A force to be honored. A Goddess.
Medusa Reborn, our centerpiece collection is a retelling of our best selling Goddess and celebrates the transformative power of Medusa and her significance as a feminist icon. The Medusa Reborn Collection holds profound importance in our quest to honor and amplify the stories of mythological and historical women.
The Medusa Reborn Necklace pays homage to Medusa's mystery and allure, with genuine brilliant cut emerald eyes radiating against the intricately detailed snake scales and winged crown. It's the heroine piece in a collection curated to remind us of our inner strength and fortitude. The Onyx Crystal Snake Necklace weaves in the aura of mystique with this genuine hand cut onyx crystal pendant and intricately detailed snake coiled around it, invoking bold glamor. Turn them to stone— the Mystic Serpent Cascade earrings pay tribute to Medusa and her powerful Goddess spirit. Honor the balance between spirit and body with the moon and snake. Your divine connection to the earth and celestial energy is harnessed with the Crescent Snake Eye necklace.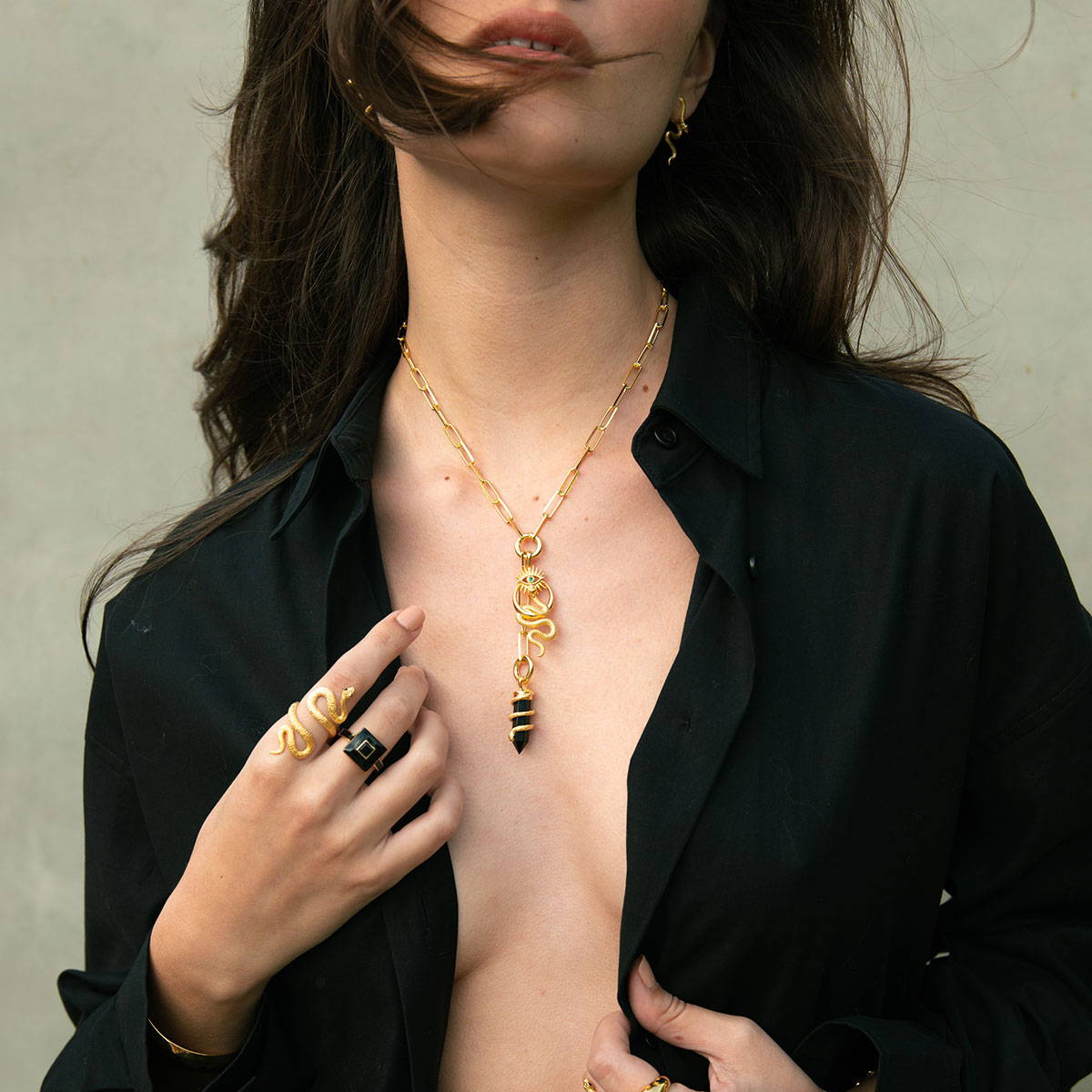 By reclaiming Medusa as a feminist icon, we acknowledge her resilience in the face of adversity. She stands as a symbol of strength, representing the capacity of women to overcome challenges and rise above societal expectations. Medusa's story reminds us that even in the most adverse circumstances, we have the power to reshape our narratives and reclaim our identity. Celebrating her transformation, we've created a special set that guides you through a storm and fuels you with courage when challenges arise. The Medusa's Gaze Set is your reminder of your greatness.
Each carefully crafted piece captures the essence of Medusa's enchantment, her renewing vitality, and her unyielding gaze. From serpent-inspired motifs to striking designs, every detail is a testament to the indomitable power of women. From the simplistic power of the Shadow Essence Black Onyx Necklace which vibrates with positive energy to the Snake Amulet Collector Link which allows for you to be the stylist in telling your own story of triumph.
This collection invites us to question conventional narratives and celebrate the multifaceted nature of women's experiences and we invite you to embrace the spirit of Medusa and her influence and as we wear these pieces, may we be reminded of our own strength, our ability to overcome adversity, and the fierce determination to reclaim our narratives.