Awe: (n) a feeling of reverential respect mixed with fear or wonder.
When was the last time you felt Awe? Was it the other morning when you were up earlier than normal and you remembered how incredibly stunning the morning sky was? Was it the other day when you looked at your child's face and a whole lifetime of memories flooded you, forcing tears to stream down your cheeks? Was it last night when you held your lover's hand in yours and felt like time had slowed down just for the two of you? Or was it the last time you were at the ocean and you could have sworn that it swallowed you whole, turning you into the Mother Ocean Goddess herself?
The truth is, if you're open and ready to receive it – Awe is everywhere you are.
Since we launched, over half a million people have taken our Goddess quiz to discover their inner and outer Goddess. To learn more about themselves and who they are, where they came from and who they aspire to be. Embracing our inner and outer Goddess is more than just a quiz, it's a journey into the depths of what makes us unique. To some, their inner and outer Goddesses symbolize a piece of them that they'd like to nurture or bring forth in the world. Or maybe it's a piece of them they are healing and relearning. (Read more about your inner vs outer Goddess here.)
As we reimagine entering or empowering Goddess Era, where we delve deep into the magic of living a life filled with awe and honoring the divine feminine energy that resides within each of us, we're reminded of our commitment to honoring who we are at the core. The Goddess.
Within you, there's a wellspring of strength, wisdom, and grace that echoes the powerful Goddesses of ancient times. Each Goddess that we add to our pantheon urges you to embrace your uniqueness, for you are a living embodiment of divine femininity. The divine feminine energy is a force that flows through the universe, nurturing and empowering all beings. It's a dance of strength and compassion, intuition and action, creativity and healing. Embrace this energy within you and let it guide you on your journey of self-discovery and growth.
Our captivating Goddess Athena collection that unlocks the empowering essence of the fierce and wise Goddess within. Athena, the embodiment of strength, courage, and wisdom, serves as a powerful symbol for women seeking empowerment and self-assurance. As you place Athena around your neck, feel the surge of confidence and resilience emanating from her energy. Let her guidance surround you, guiding you on a path of success and determination. Embrace your inner warrior and let Athena's spirit elevate you to new heights, empowering you to face life's challenges with grace and wisdom.
Elevate your essence with our enchanting Goddess Hecate collection, embracing the allure of your dark feminine mystique. Hecate, the formidable Goddess of magic, crossroads, and the night, represents the depth and power of the feminine spirit. As you adorn yourself with our Hecate-inspired pieces, you'll tap into the profound mystery and wisdom that resides within you. Embrace the shadows and complexities of your being, for they hold the keys to transformation and self-discovery. Our Goddess Hecate jewelry serves as a conduit, empowering women to embrace their inner darkness with pride and grace. Step into your full potential, as Hecate's energy envelops you, guiding you on a journey of inner strength and enchantment. Let her magic infuse your life, as you connect with your true self and embrace the dark feminine mystique that sets you apart and makes you extraordinary.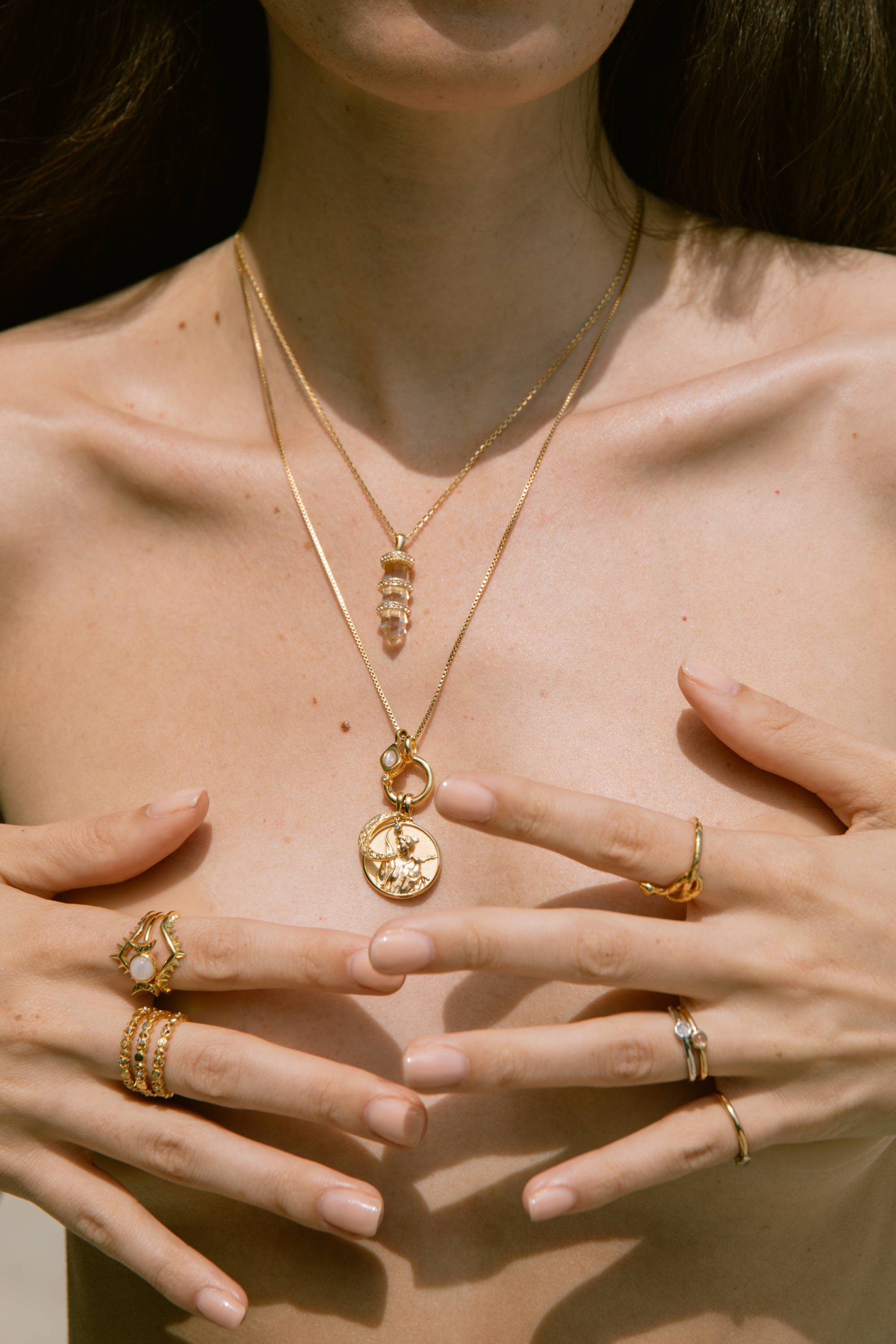 Indulge in the untamed spirit of our Goddess Artemis collection, igniting the flame of wild independence within every woman who adorns it. Just like the fierce huntress herself, Artemis embodies the essence of freedom, courage, and untethered strength. As you wear our Artemis-inspired pieces, you'll tap into the fearless energy that empowers you to embrace your individuality and chart your own path. Let her bow and arrow be a symbol of your unyielding determination, and her connection to nature a reminder to honor your instincts and intuition. With our Goddess Artemis jewelry, women can embrace their wild independence, breaking free from societal norms and embracing the beauty of their authentic selves. Embrace your inner huntress and let the wild spirit of Artemis guide you on a journey of self-discovery and empowerment.
All of our beloved Goddess pieces are not just an accessory but a talisman of female empowerment, reminding every woman of her innate power to conquer and inspire.
Wear Medusa when you're in need of transformation and celebrating your resilience. Embody the serenity of moon Goddess, Selene when you're honoring the cycles of nature. When you're looking to tap into your power, go to Persephone to remind yourself of the beautiful duality of life. Call to Goddess Lilith when you're breaking glass ceilings and full of feminine rage.
We invite you to live in a state of awe. Open your heart to the wonders of the world, finding beauty in both the grand and the subtle. Embrace the moments that take your breath away, for they connect you to the magic of existence. Immerse yourself in the exploration of your inner Goddess. Let the divine feminine energy guide you on a transformative path, where self-discovery and empowerment await.